13 May, 2018
Chicken & Asparagus Wonton Quiches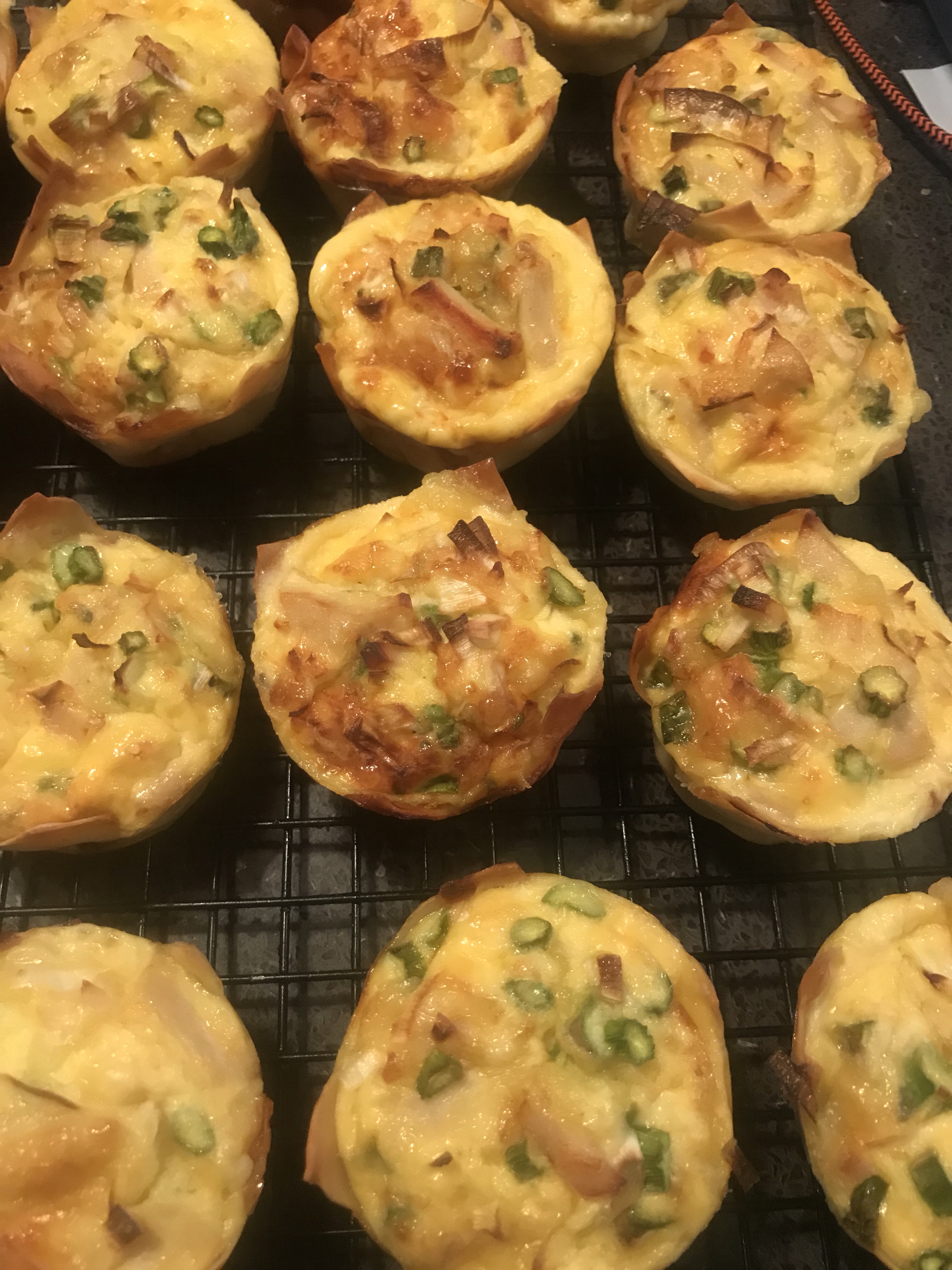 Posted in :
#healthymumma
,
Baking
,
Breakfast
,
C4K Bariatric Kitchen
,
Chicken
,
High Protein
,
Lunchbox: Savoury
,
Quiche
,
Wontons
on
by :
C4Kkitchen
Chicken & Asparagus Wonton Quiches
Makes: 14
Ingredients:
14 wonton wrappers
8 eggs
150g sour cream
1/2 cup grated Parmesan
1/2 cup grated mozzarella
2 garlic cloves
1/3 leek, halved and finely shredded
250g roast chicken
1 bunch (7 spears) fresh asparagus
Method:
Preheat the oven to 180 degrees Celsius
Add the eggs, sour cream, cheeses and garlic into a bowl and stir until well mixed
Shred the chicken finely, snap the ends off the asparagus spears and slice finely into Discs
Add the shredded leek, chicken & asparagus into the egg mix and stir until well combined
Line each muffin cup with a Wonton wrapper and fill with approximately 1/3 cup of mixture until level with the top of the muffin tray
Bake for 25-30 minutes or until golden and cooked through
Allow to cool in the muffin tray for 5-10 minutes before transferring to a wire rack to cool completely or before enjoying.
Nutritional Value per Quiche:
Calories: 125
Total fat: 7g
Total carbohydrates: 5.2g
Sugar: 0.2g
Protein: 10.1g
Recipe Notes:
Store covered in the fridge for a maximum of 2 days
This recipe is freezer friendly to be consumed within 6 months.
Disclaimer: C4K Kitchen does not hold any responsibility for the consumer using this recipe including the storage guidelines and time frames recommended in the recipe notes. The consumer holds all responsibilities to ensure that food hygiene and safety standards are adhered to.