25 November, 2018
Beef Stroganoff (Adaptation)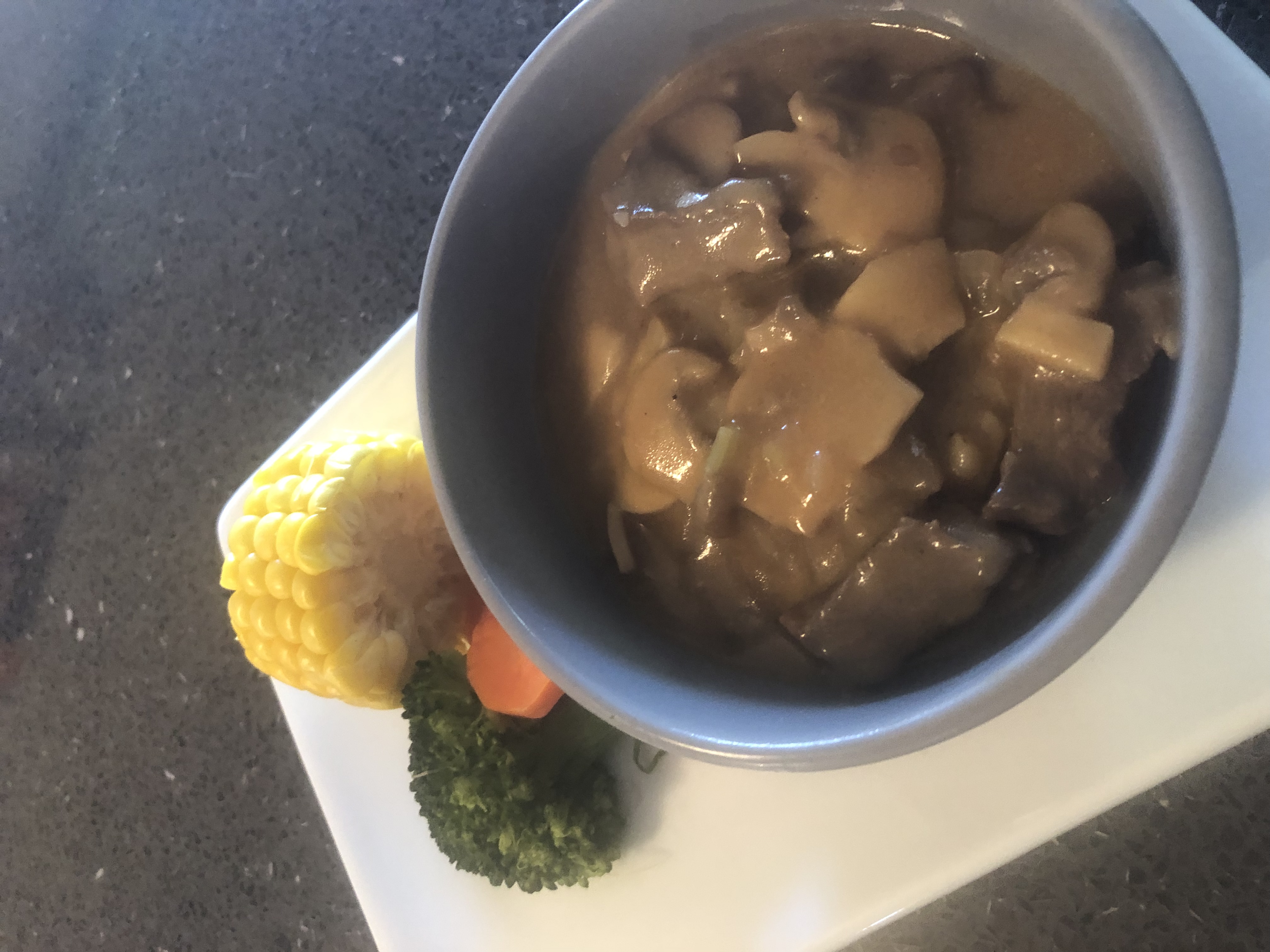 Posted in :
#healthymumma
,
Beef
,
C4K Bariatric Kitchen
,
High Protein
,
Main Meal
on
by :
C4Kkitchen
Tags:
#c4kgoesbariatric
,
#whenhollymetpercy
Beef Stroganoff (Adaptation)
Serves: 8 portions with a small side
Method:
1 large onion, thinly sliced
1 celery stalk, diced
2 garlic cloves, finely diced
500g lean beef, sliced
220g button mushrooms, thinly sliced
40g butter
2 tablespoons plain flour
1/2 packet French onion soup mix
2 beef stock cubes
1 tablespoon Worcestershire sauce
1 1/2 teaspoons paprika
Salt
2 cups water
1/4 cup natural high protein yoghurt
Method:
Sauté the garlic, onion and celery in a non stick saucepan with some cooking spray, approximately 2 minutes
Add the beef and half of the sliced mushrooms until the beef is sealed
Add the the butter and stir until melted
Mix well, then add the flour, soup mix, stock cubes, paprika, Worcestershire sauce and salt stirring so the beef is well coated
Gradually add the water 1/2 cup at a time stirring well so the stroganoff is smooth and creamy
Simmer covered on a low temperature for 15 minutes
Remove from the heat, add the yoghurt stirring through until well mixed.
Serve and enjoy.
Nutritional value per portion:
Calories: 174
Total fats: 10.3g
Total carbohydrates: 4.8g
Sugars: 1g
Protein: 14g
Recipes Notes:
Store covered in the fridge for a maximum of 3 days
This recipe is freezer friendly to be consumed within 6 months
Recipe provides 8 portions with a small side of 6 portions if serving without a side.
Disclaimer: C4K Kitchen does not hold any responsibility for the consumer using this recipe including the storage guidelines and time frames recommended in the recipe notes. The consumer holds all responsibilities to ensure that food hygiene and safety standards are adhered to.