16 February, 2019
Breakfast Ham Cups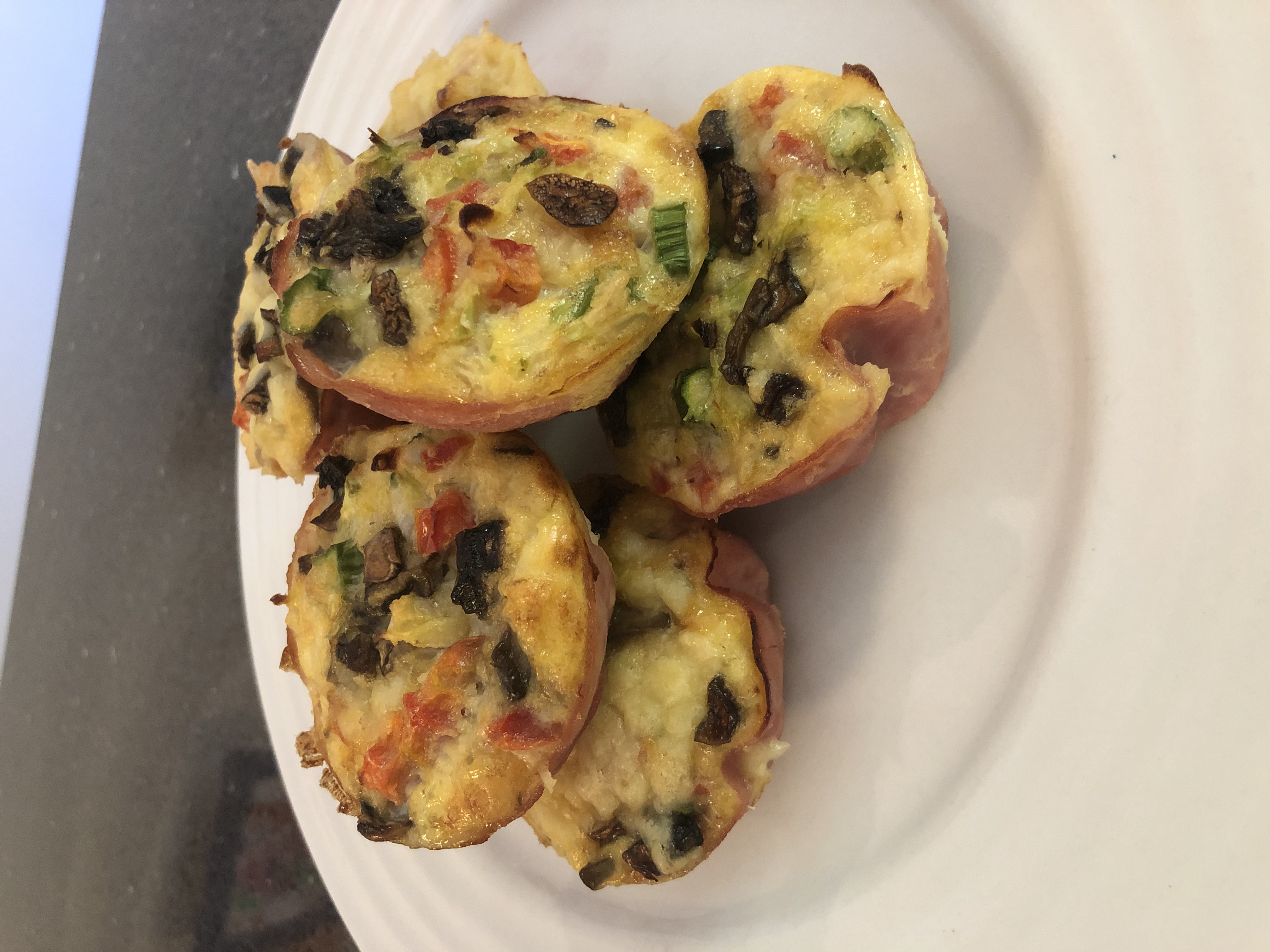 Posted in :
#healthymumma
,
Baking
,
Breakfast
,
C4K Bariatric Kitchen
,
Gluten Free
,
High Protein
,
Lunchbox: Savoury
,
Main Meal
,
Quiche
,
Side Dish: Other
,
Snack: Savoury
on
by :
C4Kkitchen
Tags:
#c4kgoesbariatric
,
#whenhollymetpercy
Breakfast Ham Cups
Makes: 15
Ingredients:
15 round thin slices of ham
8 eggs
1/4 cup natural yoghurt (or cream)
1/2 cup grated cheese
1 small onion, finely diced
1 broccoli stem, grated (approximately 80g)
1 & 1/2 tomatoes, diced
4 mushrooms, diced
4 asparagus spears, thinly sliced
2 garlic cloves, finely diced
Method:
Preheat an oven to 180 degrees Celsius and prepare a silicon muffin tray by gently spraying each well
Add the eggs, yogurt and cheese to a mixing bowl gently whisking until well combined
Add all onion, tomato, mushroom, asparagus and garlic into the egg mixture and mix until well combined
Take a slice of ham and line a muffin tray well with the ham and spoon in the egg mixture until just under level with the muffin tray
Repeat with the ham slices and mixture until all used
Bake for 20-25 minutes until golden and the egg mixture is set, this is indicated by being slightly firm to touch but with a gentle jiggle in the centre.
Allow to cool for 10 minutes in the tray before moving to a wire rack to cool completely.
Nutrition value per ham cup:
Calories: 89
Total fat: 4.8g
Tots carbs: 2.5g
Sugars: 0.8g
Protein: 8.7g
Recipes notes:
Store in an air tight container in the fridge for a maximum of 3 days
This recipe is freezer friendly to be consumed within 6 months
Serve hot or cold
Disclaimer: C4K Kitchen does not hold any responsibility for the consumer using this recipe including the storage guidelines and time frames recommended in the recipe notes. The consumer holds all responsibilities to ensure that food hygiene and safety standards are adhered to.